Popular Fraud Tactics & Scams
---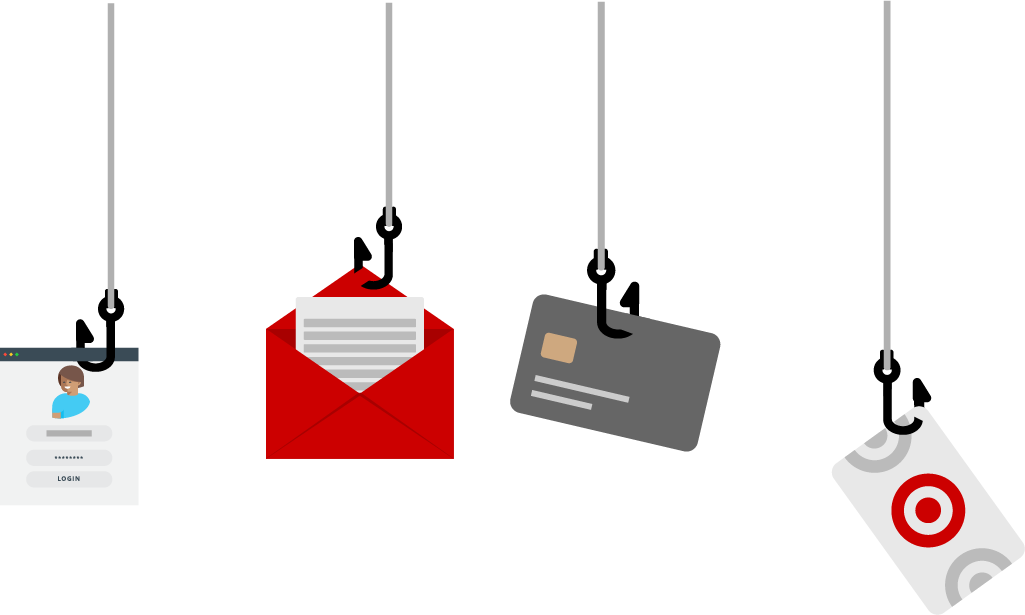 ---
Phishing (Email)/Vishing (Voice)/Smishing (SMS Text)
Scam occurs when a fraudster uses the Target brand to trick guests into sharing sensitive information such as usernames, passwords, account numbers or other personally identifiable information. This tactic comes in multiple forms: phishing (via email), vishing (via voice), or smishing (via text message), and sometimes looks like legitimate communication from Target or another retailer.
Fake Target.com Order Scam
Occurs when a fraudster creates a fake "thank you for your recent purchase" email or text from Target. The goal is to trick the recipient into reporting that they did not place the order by using a phone number or link provided in the fraudulent email or text. The scammer will then attempt to collect login credentials, payment information or other personal details that can be used to carry out additional fraudulent activities.
Job Scams
Scams often include imposter and secret shopper scams. Typically, the fraudster will contact their victims via email, posing as Target with a flash subject line such as, "job offer" or "influencer opportunities." Each role will have a brief job description which is used as a call to action, luring in potential victims by offering compensation or free products. Once they establish communication, this victim is instructed to share personal information, purchase and share gift card numbers, or buy certain items to review.
---
Gift Card Harvesters & Scams
Gift Card Harvesters
Harvesters are scammers who collect gift card numbers and access codes while posing as a legitimate source for a guest to check their balance. Only check your balance on the target site at https://www.target.com/guest/gift-card-balance

Gift Card Scams
Gift Card Scam Examples
Gift card scams happen when fraudsters pose as authority figures or loved ones asking for payment in the form of a gift card to prevent "something bad from happening" or to correct an alleged mistake. Victims can be contacted via email, text message or phone, with the fraudster often expressing urgency in receiving payment. Some typical scams involve posing as government agencies (IRS, SSA), grandchildren in peril, bosses needing a favor or tech support with a need to gain remote access to the victim's computer.
Utility Savings Promotion Scam
The scammer, posing as a customer service representative, will call (live person or recorded message) or text the victim with a promotion on their services (e.g., 50% off). In order to receive the promotion, the victim is asked to pay for a portion of the scammer's services up front using gift cards purchased at "partnering" retailers. The victim is given a "customer support" number to call once they have purchased the gift cards and is told that once they provide the gift card details, their promotion will be activated.
For more information on utility service scams, visit FTC: Scammers are posing as your TV and internet company.